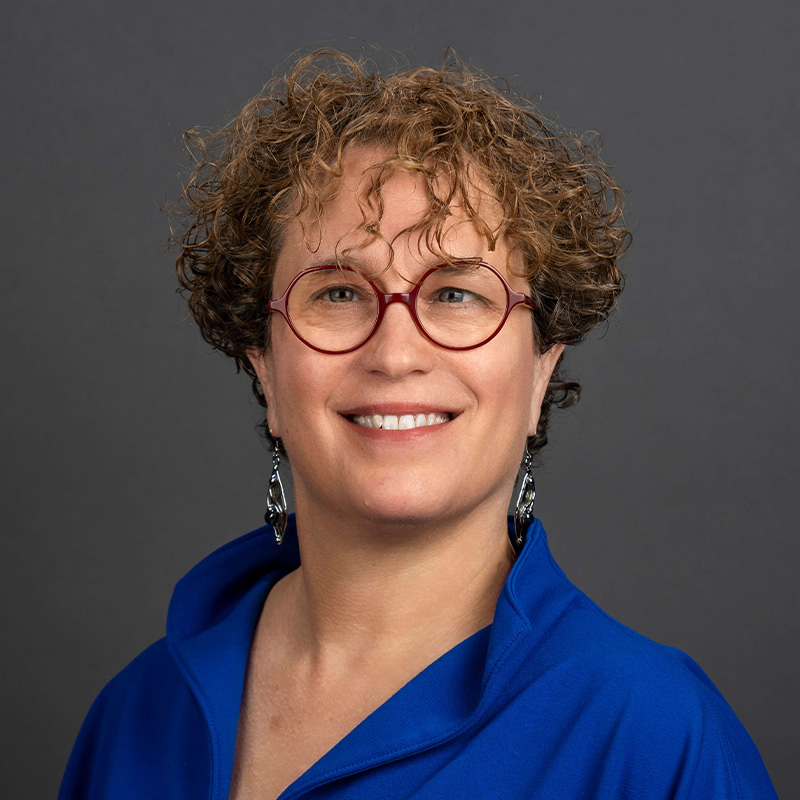 Fay Twersky
President
As president and director of The Arthur M. Blank Family Foundation, Fay Twersky is a trusted, values-aligned leader, working with the Blank family, defining areas of giving and directing philanthropic resources in service of a better world. Fay also serves on the Executive Leadership Team of the Blank Family of Businesses – the full portfolio of socially minded enterprises, including the Atlanta Falcons, Atlanta United, PGA TOUR Superstore, Mercedes-Benz Stadium, Mountain Sky Guest Ranch, Paradise Valley Ranch and West Creek Ranch.
Fay joined the Blank Family Foundation in February 2021 from the William and Flora Hewlett Foundation in Menlo Park, California, where she served as Vice President. Fay created, launched and led Hewlett's Effective Philanthropy Group, an internal team dedicated to organizational effectiveness and responsible for guiding strategy, evaluation and organizational learning. In this position, Fay promoted effective philanthropic practices well beyond Hewlett and among her notable contributions to the field, was serving as the founding Co-Chair of the Fund for Shared Insight, a $63 million dollar funding collaborative of more than 100 funders supporting more than 500 nonprofits who are committed to amplifying voices of those least heard in our communities and responding to their preferences, ideas and insights.
Fay spent one year working in Jerusalem, as a Senior Advisor to the Managing Director of Yad Hanadiv (The Rothschild Family Foundation), the largest independent foundation in Israel. She advised on issues of strategy, organization and learning. Prior to that, Fay served as director and member of the leadership team of the Bill and Melinda Gates Foundation, developing the impact planning & improvement division. While at Gates, Fay co-founded Youth Truth, a breakthrough student feedback system focusing on the student experience in schools. Before joining the Gates Foundation, Fay was a founder of BTW – Informing Change, a strategic consulting firm working with nonprofits and philanthropy nationally.
Fay is a frequent author and commentator on trends in philanthropy. Her publications include several Stanford Social Innovation Review (SSIR) articles including, "Time for a Three-Legged Measurement Stool," about balancing monitoring and evaluation with feedback from community members at the heart of our work; "How Philanthropic Collaborations Succeed and Why they Fail," on the value of funders working together on intractable problems but also some of the pitfalls in doing so; "The Artful Juggler," on what it takes to be a successful foundation CEO; and "Listening to Those Who Matter Most, the Beneficiaries."
Fay is a trustee of the Van Leer Foundation based in The Hague. She is board chair for the Van Leer Jerusalem Institute and serves on the Executive Committee for the Metro Atlanta Chamber of Commerce. Fay is also a member of the Atlanta Committee for Progress and the International Women's Forum of Georgia.
In 2022, Fay was named one of nine most influential people in Atlanta by Axios Atlanta and is a member of Leadership Atlanta class of 2023.
In 2023, Fay was named to the 2023 NonProfit Times' Power and Influence list. More than 300 top executives were nominated, and only 50 made the cut. Fay is in "Good Company" indeed, with the synopsis that she's possibly the biggest philanthropic force in Georgia!
Fay holds two bachelor's degrees in Middle Eastern Studies and Rhetoric, with high honors, from the University of California, Berkeley, and has a master's degree in City Planning from the Massachusetts Institute of Technology.
Fay and her wife Jill have two children – Jaz and David Nathan. The family has an adorable dog named Zadie.